KEN RITCHIE COLLECTIBLES
presents...
BETTIE PAGE
THE BETTIE PAGES
Digest-size magazine series devoted to Bettie Page. Includes lots of nice pix of other
models as well as great art by Olivia and many others. All copies are NEW!
(Black Cat Books, Division of Pure Imagination Publishers)
A.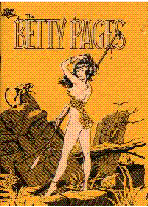 B.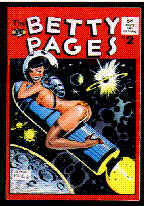 C.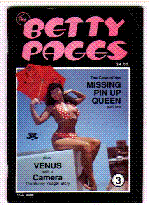 D.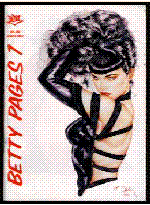 E.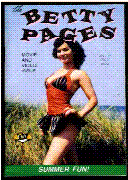 F.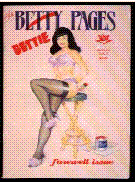 A.
V.1 (1st Printing, 1987)
FC illo by Glenn Barr [VF @ 75.00, #MA-5005107]
B.
V.2 (1st Pr., 1988)
FC cartoon by Bill Wray of Bettie riding a rocket
[20.00, #MA-5003709]
C.
V.3 (1st Printing, Fall 1988)
FC by Bunny Yeager + 2-pg. color CF [20.00, #MA-5003711]
D.
V.7 (1992)
FC illo + full-pg. color pin-up "Cat And Mouse" by Olivia
[5.00, #MA-5003715]
E.
V.8 (Summer, 1992)
FC photo by Art Amsie; "Movie & Video Issue"
[5.00, #MA-5003716]
F.
V.9 (1993)
"Farewell Issue"; 2-pg. color CF [5.00, #MA-5003717]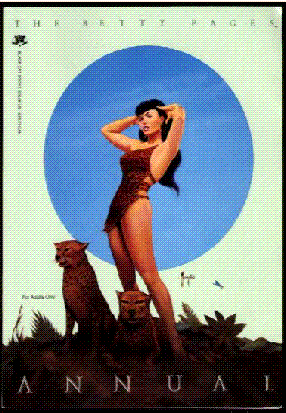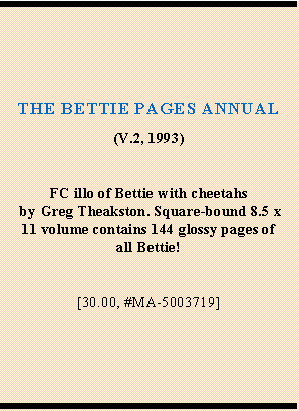 For more material featuring Bettie and convenient online ordering use this link to my other site. click here
FOND MEMORIES
NEWSLETTER TRIBUTE TO BETTIE PAGE, QUEEN OF THE PIN-UPS
FOND MEMORIES began in 1991 as a privately printed newsletter for Bettie Page's most dedicated fans and collectors. All early* issues (*prior to letter "L") had press runs of only a few hundred copies and were individually notarized for authenticity. All issues were at least 16 pages in length and contained reprints of classic Bettie Page magazine covers and pictorials, letters from fans and collectors, original art and a wealth of information about Bettie as well as other pin-up / glamour art and models.
From the beginning, all issues were lettered instead of numbered, with Issue "L" as the first to be printed for mass distribution. Each issue featured appearances by Bettie Page in magazines whose title began with the same letter as the issue letter; however, when the end of the alphabet was reached, there were 27 issues (26 alphabet letters plus the Summer '92 issue), and a switch was made to numbered vs. lettered issues. Only one issue was published under this format, and th was #28. All issues through "P" are full-size 8.5 x 11, issues from "Q" to the present are 5.5 x 8 digest size.
Now that the print run of FOND MEMORIES is in the thousands, there is a large group of fans and collectors who never had an opportunity to obtain the early issues. For those of you who wish to obtain copies of these back issues, I am pleased to be the exclusive source for all early issues of FOND MEMORIES: issues A through K, the special Summer 1992 issue and the first Bondage issue. All 13 of these early issues are now available for immediate shipment at the original price of $5.00 per issue (plus postage).
Press-ready art for first printings of early editions was painstakingly created from original photos, magazines and artwork, much of which was borrowed from collectors. Although it is technically impossible to produce reprints that are identical to the originals, these reprints have all the original content and the only real difference is cosmetic. The unique touch of notarizing each copy is -unfortunately- not feasible with reprints. While these reprints could not be confused with first printings, they do afford all Bettie Page fans an opportunity to acquire the whole set of newsletters and know the complete story.
Reprints (Click on a letter to view the issue cover):
A, B, C, D, E, F, Summer Special, G, H, I, Elegantly Bound Special (V.1), J, K,

[>>All issues NEW @ $5.00 each]

[>>All issues NEW @ $10.00 each]


P Contains excellent reproduction of famous PLAYBOY Centerfold from the issue of 1/55


[>>NEW @ $25.00]


Elegantly Bound v.2 The most popular issue and nearly impossible to find.


[>>NEW @ $40.00]


Q, R, S, T, U, V, W, X, Y, Z, #28, Elegantly Bound v3

[>>All issues NEW @ $5.00 each]

* * * * *

(All titles listed are hypertext - click to view graphics!)

BETTIE PAGE: THE LIFE OF A PIN-UP LEGEND


1996 by Karen Essex & James L. Swanson from General Pub. Group. Large (9 1/2 x 11) hardcover w/ Dustjacket is the definitive work on Bettie
with 288 pages and over 500 images covering every aspect of her life and career.
[>>Originally pub @ 40.00 book has barely been touched - just gorgeous! @ 50.00]

BETTY PAGE CAPTURED JUNGLE GIRL 3-D


1990 by The 3-D Zone. Mag is 8 x 10, 28 pgs, mostly full page bondage pics w/ cartoon backgrounds by The Pizz.
Also includes 7 pgs of artwork by Gene Bilbrew. Entire mag is in 3-D.
[>>New copies w/ 3-D glasses still bound inside the covers. Some spine stresses - about Fine @ 15.00]

BETTY PAGE CONFIDENTIAL


1994 from St. Martin's Press. 7 x 10 softcover book w/ photos by Bunny Yeager and introduction by Buck Henry.
128 pgs w/ nearly 100 full page photos, some previously unpublished. Great stuff!!
[>>Book has been lightly read, still has full gloss, nearly new @ 15.00]

BETTY PAGE QUEEN OF PIN-UP


1993 from Taschen. Oversize (9 x 12) book w/ heavy stock covers has 80 pages and well over 100 photos, many full page and lots of color too!
Great FC photo of Bettie w/ 2 cheetahs.
[>>Book has been lightly read, still has full gloss, nearly new @ 20.00]

GLAMOUR INTERNATIONAL MAGAZINE

Gorgeous books, and almost every issue was heavily influenced by Bettie Page, including two issues devoted to her. Most issues now available in excellent condition.

HELLO BETTY


1992 from S. Q. Prods. A Portfolio by Terry Twigg Consists of 6 large (11x 14) full color illos on heavy stock. Originally pub @ 25.00.
[>>Images in perfect shape, corners have extremely minor rounding @ 15.00]

MIAMI NEW TIMES


September 22-28, 1993. 11 x 14 tabloid size newspaper. Bunny Yeager FC + long feature article w/ lots of pics inc a 2 pg photo
of Bettie Page in leopard bikini + 1 smaller pic.
[>>Basically new copy w/ light toning on edges @ 15.00]

MOVIE STAR NEWS


First issue of this digest size mag from Pure Imagination has a great FC painting by Dave Stevens.
Mag has 80 pgs and features a long article about Irving Klaw and over 700 photos of Bettie by him.
[>>NEW, UNREAD - FINE++ @ $20.00, #MA-5003734-]

TOR LOVE BETTY


2/91 from EROS Comix. 6 1/2 x 10 size, 32 pgs w/ color covers and B&W interior. "Cheesecake, Humor, With a Teaspooon of Horror"
features assorted comic strips and illos of Bettie by a variety of artists.
[>>NEW @ 10.00]

WONDERWALL #1


1993 by Eclectus Ltd. 6 1/2 x 10 size, 44 pgs w/ color covers and B&W interior. Features electronically altered pics.
Bettie has 15 full pg photos. Covergirl Katie McFaddin has 18 full pg photos
[>>Lightly read - Fine @ 10.00]



PLAYBOY
(Please see the PLAYBOY MAGAZINE price list for available grades / prices.)

01/55 Bettie Page CF - the famous "Santa" pic!

05/55, 01/56, 03/64 Bettie Page 1 pic in each issue

06/78, 11/78, 01/79, 01/89, 11/92 Bettie Page 1 or 2 small pix in each issue

12/92 Bettie Page very nice feature with 8 pgs. pix + article

03/93 Bettie Page 2-pg. article (no pix)

05/94 Bettie Page 2 pgs. pix in Bunny Yeager feature







GLAMOUR INTERNATIONAL

MORE PIN-UP ART

ORDER

HOME
Page updated May 13, 2017